A very useful exercise we can borrow from the UX/UI field is developing user journeys.
In its simplest form, this practice maps out how a member of a target audience would move through the engagement funnel, starting from becoming aware of you, checking you out, considering your positioning, signing up to participate, participating, and eventually recruiting others.
Check out this example from a quit smoking campaign, where I mapped out the journey of "Jane":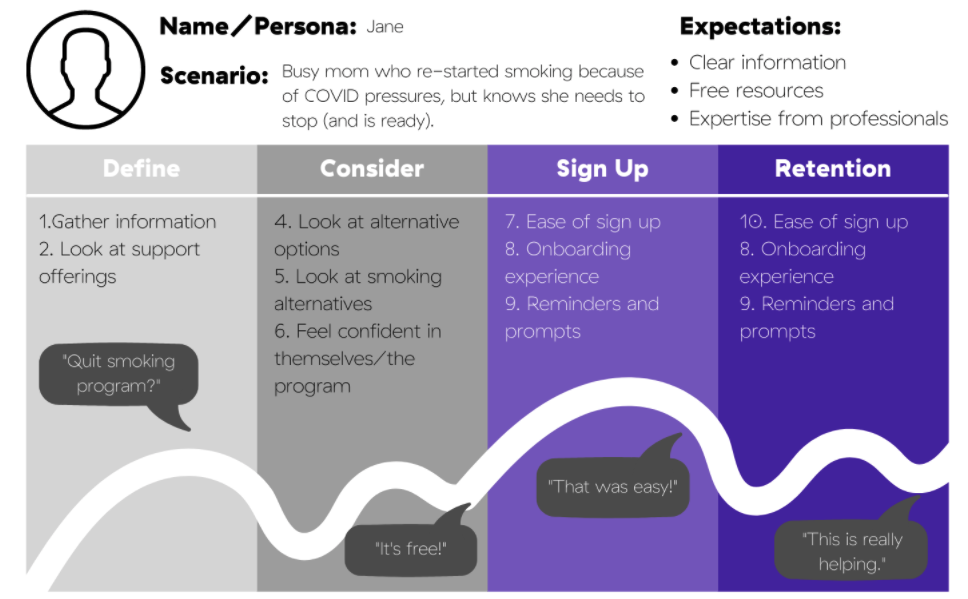 Creating Jane's user journey helped the team audit our existing campaign materials and consider whether or not they would be effective and aligned with our target audiences.
We discovered some friction points (e.g. a really long sign up form!), some opportunities (e.g. driving ads to a calculator that helped identify savings costs of quitting smoking), and language that would be more effective in content and ads (e.g. offering alternative stress relief, fostering empathy, showcasing community).
Give user journey mapping a try. Take your audience personas and plot out the points on their journey through the engagement funnel (or up the engagement ladder — choose your metaphor!) You'll discover more about where you need to focus your resources and energy.